The Madison Project - Jean Stoffer
Last year, L.J. Smith had the opportunity to partner with Jean Stoffer Design to revive the staircase in the historic Madison home in downtown Grand Rapids. Taking on the Madison home was no small feat, even for a well-versed professional designer like Jean Stoffer, and the L.J. Smith team was excited to join her on her renovation journey.
Jean originally discovered the Madison in November of 2017, and then ended up purchasing the home just one month later in December. She knew she had to take on this project the moment she saw it.
Built in 1905, the home has a total of 10,000 square feet equaling out to 29 rooms, all of which needed a major refresh. Partnering with Kenowa Builders and Novo Building Products, Jean was able to transform this drab historic home into a beautiful work of art.
"It's required patience, and it's required resources, but now we are done and I am absolutely thrilled with it."
— Jean Stoffer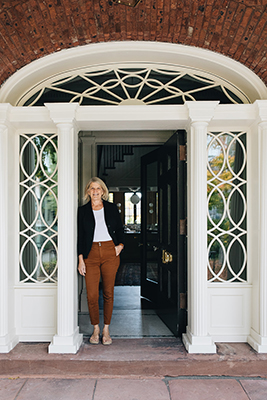 L.J. Smith Stair Systems Involvement
Seeing a great opportunity when Jean Stoffer began renovating the home, L.J. Smith Stair Systems decided to take on the project of renovating the grand staircase. The L.J. Smith team, Jean, and Kenowa Builders then got to work discussing the plans for the partnership.
After a lot of concept work from Jean and Kenowa Builders, it was determined what product was needed and how that product would be used.
Product Used