How to Step Up Your New Home Interior Accents
Want to feel good about yourself and your home? Then set your sights on interior home improvement projects.
According to the 2019 Remodeling Impact Report, after completing a remodeling project, 74 percent of homeowners had a greater desire to be in their homes --- and 77 percent have a deep feeling of accomplishment.
Gaining a feeling of satisfaction doesn't mean you have to tear up your entire home. Smaller projects, like upgrading insulation, adding millwork and changing stairway systems won't bust the budget or cause too much chaos in your home.
Simply Stunning Staircase Changes
When thinking about home improvement projects, consider your stairway. Often a focal point of a home interior, the stairway system can benefit from an update in many homes.
"There's a definite trend underway of people mixing irons and woods on stair systems and throughout the home," says Kelly Miller, director of market development for L.J. Smith Stair Systems. "Rather than completely take down an existing wood stair system, many people are turning to the easy DIY project of replacing wood balusters with iron balusters. Then they're leaving the wood handrails and newel posts. This creates a stylish, upgraded look to the stair system."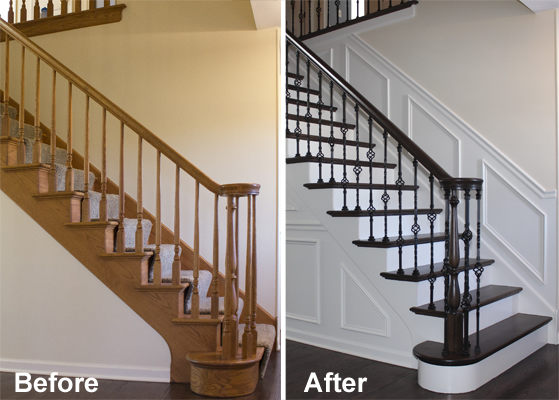 Miller cites the easy-to-install IronPro™ system that allows homeowners to simply "swap out" wooden balusters for designer iron balusters.
After carefully removing older wooden balusters, IronPro pivoting fasteners are attached to the handrail. Iron balusters are then inserted, pivoted and swung into the vertical position. Alignment is completed and screws are tightened to secure the baluster.
"If you can use a tape measure, a drill, and a few other common tools, you can swap outdated wooden balusters for trendy iron balusters in just an afternoon," says Miller.
IronPro Options
Two different IronPro kits in Satin Black are available from L.J. Smith. For an open tread stairway, the IronPro Level Kit includes a ball adaptor, round and rectangular sockets, a base collar, a threaded disk and centering plugs. For a kneewall stairway, the IronPro Kneewall Kit includes a ball adaptor, threaded ball adaptor, round and rectangular sockets and centering plugs.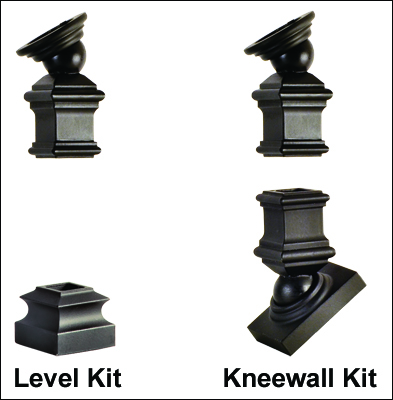 One IronPro kit is needed for each baluster replacement in a stairway system. At L.J. Smith we offer 35 different ½" solid and hollow iron baluster styles as replacement options when using the IronPro kit.