Spring 2021 One Room Challenge Reveal – Ashley Wilson
Every year, Novo Building Products participates as a sponsor in the One Room Challenge. This event features 20 designers that take up the challenge of renovating or redesigning a room in their home over the course of 8 weeks. Each week, the audience receives an update on their social media about the progress of the room, along with the products they are using.
Learn more about the ORC on their website.
Ending on June 23rd, this season has revealed stunning rooms from all of this Spring's Featured Designers. Spending just 8 short weeks demolishing and renovating different spaces, these designers went above and beyond.
L.J. Smith Stair Systems Involvement
Being a part of the Novo Building Products family, L.J. Smith Stair Systems partnered up with Featured Designer Ashley Wilson with @athomewithashley to renovate her already popular staircase. When she realized she could open up her space by knocking out the wall of her staircase and placing a handrail there instead, she jumped at the opportunity. Using wooden Pin Top Balusters and a White Oak Handrail from L.J. Smith Stair Systems, Ashley was able to finalize her dream staircase.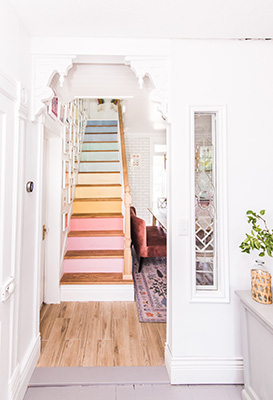 Product Used