Make Your Dreams Come True
Today is a special day. It's "Make Your Dreams Come True" Day … and, if you're dreaming of a new stairway system in your home, we can help.
Some people think getting a new stairway is complicated. It's not. They think a new stairway installation will take weeks. It won't. And, they think they'll never know which stair system to pick for their home. We're here to help.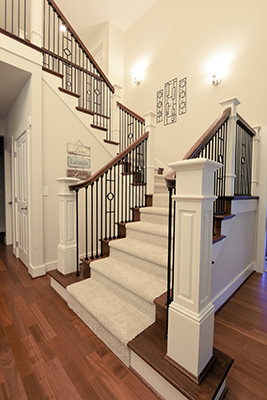 Step #1
The very first thing we recommend is a quick tutorial on stair systems. Go to Selecting Your Stair System on our website and we'll give you a 101 course. You'll find terminology explanations plus pictures of the parts of a stairway.
Step #2
Next, if you're considering a new stairway, we suggest you "try one on for size" before making a commitment. That's where our free online Stair Designer can help.
You simply respond to a few questions and then you can see immediately what your stairway could look like. The entire process takes less than 30 seconds … and you can begin over and over again until you find the style that works best for your home.
Step #3
Need more assistance? Contact our Customer Service team members. They're experts on stair systems, finding the right system for you and can even send out sample pieces if needed.
You're not alone in making your dreams come true with a new stair system. At L.J. Smith we bring more than 135 years of expertise to assist you in all your stairway needs!