L.J.Smith Salutes Employees
You might not know this, but the last Friday in March is National Employee Appreciation Day.
For this special day, we wanted to shine a spotlight on our dedicated and talented L.J. Smith team members. Each day they apply their skills to make certain every L.J. Smith stairway system is crafted to perfection.
We want you to know and understand the level of expertise our employees bring to their jobs at L.J. Smith Stairway Systems. Each one is valuable to our team. Here are highlights from just three of our capable and devoted employees.
John Sandy
For the past 43 years, John Sandy has been a member of the L.J. Smith team. A master stair builder and true craftsman, John brings his hand-crafted touch to almost 4,000 orders every year. However, it's not a solo effort. He works closely with the engineering team at L.J. Smith. His expertise allows him to quickly find any errors or points of concern when viewing a drawing. He then works with the team to finalize and bring the custom designs to life.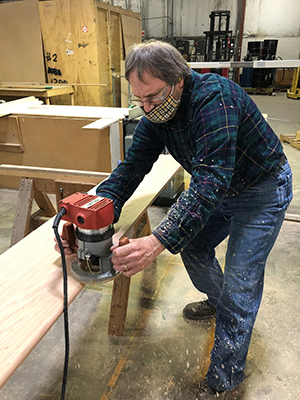 "On a daily basis I'm involved in creating displays, designing fixtures, and building custom blanks," says John, a lifelong resident of Dover, Ohio. "Each day presents a new challenge, which is what has kept me here for so long. I enjoy how the industry keeps advancing. If you don't change with it, you get left behind."
Carl Bouchee
Coming close behind John in commitment to the industry, Carl Bouchee has been working on stair systems for 39 years. He advises homeowners, architects, high-end builders, and remodelers on their custom stair system needs. Carl thrives on the uniqueness of each project, juggling up to 40 projects each year.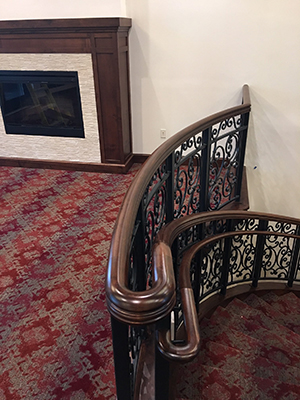 Dennis Martin
A 25-year veteran of the industry, Dennis Martin has a very unique job at L.J. Smith. He routinely makes and grinds as many as 300 different knives for the company's machinery that's dedicated to creating custom handrails and mouldings.
The custom process starts with drawings and computer renderings. Then Dennis downloads a template. He cuts and creates steel knives that are needed to grind the custom pieces. The knives are a quarter-inch thick, high-speed steel. Their heights vary from two- to 10-inches depending on the size of the piece being created. And, the weight will vary from 10 pounds up to 50 pounds.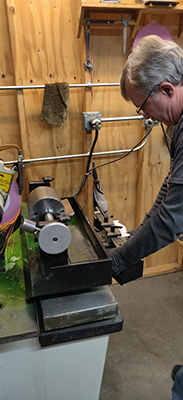 "I put exact knives in the left, right, top, and bottom sides of a machine to create an accurate reproduction," says Martin. "This is very intense work, but it's fun. We make a positive impact on a project and fulfill the needs and dreams someone has for a railing system. That's a great career to have for more than two decades!"