ENTER NOW: 2019 Deck Your Stairs Photo Contest!
Get ready to decorate your home's staircase and win extra cash for the holidays! We're holding our 2019 Deck Your Stairs Photo Contest from December 1 – 15, 2019. Four winners will each win $100 cash prizes.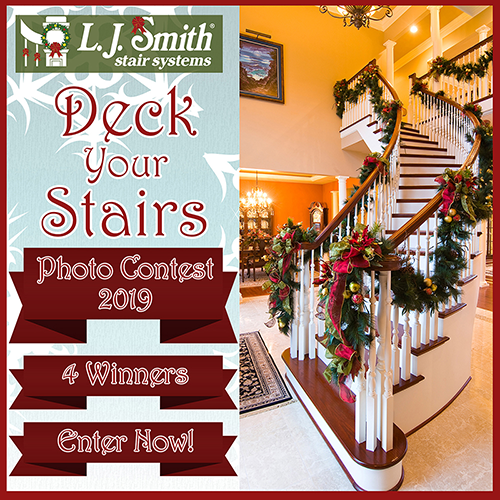 We're encouraging you to submit images of ways you've decorated your indoor stair system for the holidays in our online Facebook contest*. Whether it's garland and lights, or ribbons and bows, we're searching for festive holiday images that showcase how you decorate stairways in your own home!
"Over the years we've seen stockings, ornaments, candy canes and wrapped gift packages hung on stairways," says Beth Galigher with L.J. Smith Stair Systems. "This year we want to showcase a new era of stairway decorations. We're hoping people will share images of their 2019 decorated interior staircases with us."
Entering the 2019 Deck Your Stairs Photo Contest is an easy process. Visit www.ljsmith.com/deck-your-stairs-contest-2019 to fill out the entry form and submit images online in .jpeg or .tiff format. You may enter one time and include up to five photos of your own decorated stairway.
"We're looking forward to sharing entry pictures on both our Facebook page and website," says Galigher. "For this contest, we're seeking stand-out stairways that capture the holiday spirit. This way we can offer inspiring decorating ideas to others while recognizing those who are creating holiday masterpieces on their interior stair systems!"
* For the official rules and regulations of the contest, please visit www.ljsmith.com/deck-your-stairs-contest-2019. Winners will be announced by December 20, 2019.