Earth Day is Every Day at L.J. Smith® Stair Systems
Our employees at L.J. Smith® Stair Systems manufacturing and distribution facilities know all about recycling. Our team has solid environmental practices in place, encouraging everything from recycling sawdust and cardboard, to having LED and motion sensor lighting installed at our facilities.
"We manufacture tens of thousands of wood balusters and newel posts each year," says Craig Kurtz, president of L.J. Smith Stair Systems. "That process results in lots of sawdust. Right now we recycle about 2.5 million pounds of sawdust each year. We've been dedicated to this recycling process for the past three decades."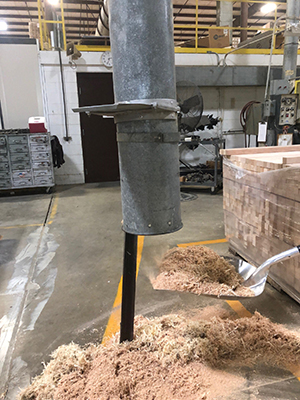 Rather than throw the sawdust away, we sell the residue of Red Oak, Poplar, White Oak and Maple sawdust to local vendors. Our environmental program partners use the reclaimed sawdust in a variety of products, including compost, top soil, and mulch.
Recycling in Action
Recycling at L.J. Smith doesn't end with sawdust. That's really just the beginning.
"We recycle about 48 tons of scrap cardboard each year at our Bowerston, Ohio facility," says Kurtz. "We avoid disposal costs by giving this material to local companies for their use. For us, it's all about acting responsibly as a corporation."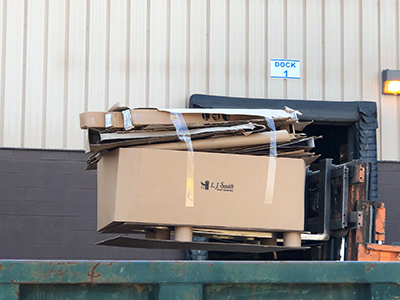 Lighting the Way
Additional environmental actions for our company include having replaced our previous light fixtures with LED lights. That change in our company's four manufacturing operations saves on energy costs … estimated at $40,000 each year in just our Bowerston facility.
"Several of our facilities have motion-sensitive lighting," says Kurtz. "If there's no motion in a specific area after several minutes, the lights automatically turn off, saving more energy.
"We're continually reviewing ways to reuse and recycle materials in our facilities. It doesn't matter if it's 15 minutes of energy saved with a motion sensor light or thousands of pounds of wooden pallets being recycled. We try to focus on our environmental practices every day, at every location."