Stairway Options 101
You're building a new home --- congratulations! Or, you're refurbishing a cherished, older home. Again, congratulations.
There are many decisions you're making right now. Stainless steel appliances? Wood plank or tile flooring? Hand-held or rain-style showerheads? When it comes to deciding on your stairway system, L.J. Smith Stair Systems is here to make it easy for you.
First, you'll need a tutorial. You should understand the anatomy of a stairway system. This shows you the options of Post-to-Post or Over-the-Post stair systems. Are you already lost? Then it's time to help you understand stair system terminology. This is a language all its own … and when you master just a few key points, it will help you make decisions about your new stair system.
Now, to get you updated quickly, here are the explanations for those two important terms:
Post to Post Balustrade System: Balustrade system in which the handrail is not continuous. The handrail extends from the top block of one post to post newel to the top block of another post to post newel.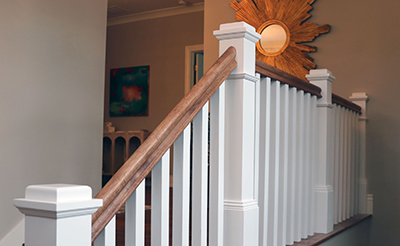 Over the Post Balustrade System: Balustrade system which uses handrail fittings and over the post newels to create an unbroken, continuous handrail system.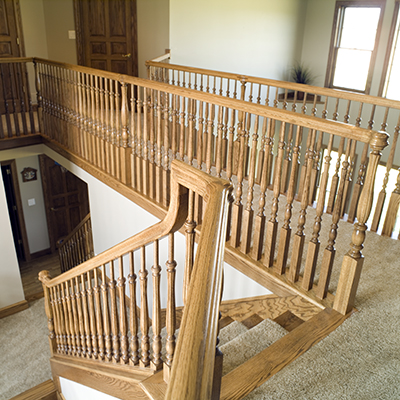 Design Your Own Stairway
After spending time learning your "101" phrases, then it's time to decide what you want your stair system to feature. Wood? Iron? Steel? A combination of these items?
At L.J. Smith we can create any type of stair system you dream up. We'll even help you design those dreams on our online Stair Designer tool. Play around with it to see what type of style and materials best fit your desires.
Wood Options
You should know that if you choose wood for your stair system, you're in great hands with our custom craftsmen. L. J. Smith offers 17 standard and premium wood species. From traditional Maple, Red Oak and Poplar to the different grains of Hickory and White Oak, we've got it all. And, we can get custom wood species in for you also!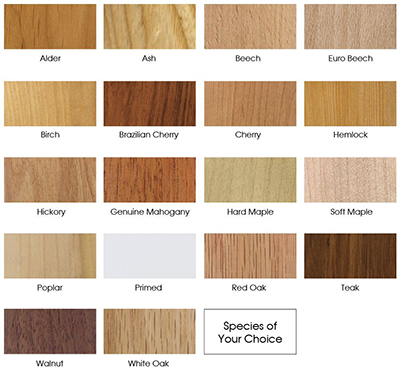 Iron Options
If you're leaning more toward the strength and appealing look of iron, we've got you covered. L.J. Smith has eight iron finishes. From Oil Rubbed Bronze to Satin Black to Matte Nickel, we have great options for you. And, don't forget, you can "mix and match," so consider some iron balusters mixed in with your wood handrails!
Cable and Tube Options
Next up, the cable and tube systems we offer come in a variety of wood and metal newels, marine-grade stainless steel cable, and brushed 304 stainless steel tubes. As part of the Linear Collection, the stainless steel option creates a sleek stairway appearance. The steel cables also provide more viewing areas, so this design is gaining in popularity.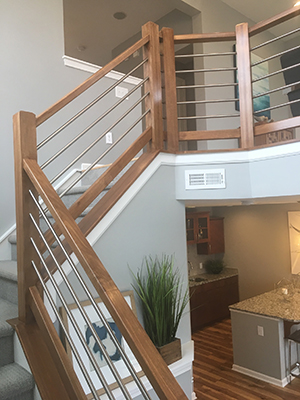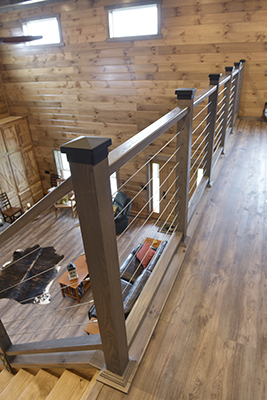 Metal Panel Options
Finally, our Linear Metal Panel System comes in Low Sheen Black as a standard finish. You can order powder-coated and Pantone® paint colors for these beautiful panels. Seven-level run panels are available to meet rail heights of three different sizes with five-rake panel widths available. The unique stairway system can be incorporated into open tread stairways, kneewall stairways, and level run applications.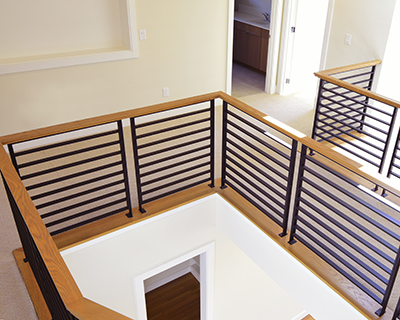 With those key pieces of information in mind, we hope you enjoy the process of creating your one-of-a-kind stairway system. Call us at 740-269-2221 if you need additional help.
Class dismissed!