L.J. Smith® Offers New Installation Videos Online
Need some extra help with installation of our interior stairs systems? We've got just the thing. L. J. Smith has just added 12 new installation videos to our online library of resources.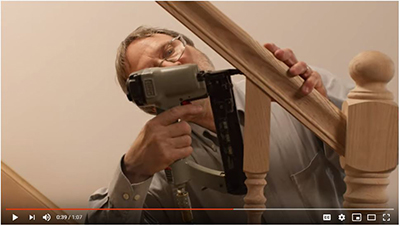 Available at https://www.ljsmith.com/install, the short tips-oriented videos feature step-by-step instructions for a variety of projects, including:
Additionally, we have Cable System and IronPro™ Iron Baluster Fastener Installation Videos on our website site, for a total of 14 easy-to-follow videos.
"People are very 'visual' with their installation needs," says Beth Galigher, director of marketing with L.J. Smith Stair Systems. "That's why we have prepared these installation videos. The short, educational pieces can truly help anyone quickly understand the specific stair system project they're working on.
"Of course our company also has a wide variety of written installation guides on our website. We are introducing these new videos to support those highly-detailed documents."
In addition to the new videos, L.J. Smith has a full array of installer support materials on the Resource Section of our website. These include finishing tips, FAQs, building codes, ordering guidelines, and product drawings. Product brochures and an Inspiration Gallery are also available.